MILL BAY / MALAHAT HISTORICAL SOCIETY MUSEUM
The museum is open EVERY Saturday from 11:00-2:30pm. Guided tours are available. Admission by donation.
Our museum is located at the Pioneer Square, directly across from the Salvation Army in Mill Bay on Shawnigan/Mill Bay Road.
Please consider joining other like-minded citizens as we 'dig up our history.'
Call us to request info, offer us your stories or order a copy of our DVD, One Man's Dream, The History of the Malahat Highway.
THE MBMHS MUSEUM
The Mill Bay/Malahat Historical Society Museum is located in Pioneer Square Mall off the Shawnigan-Mill Bay Road, immediately west of the Trans-Canada Highway.
HOURS OF OPERATION:  
NEW MUSEUM HOURS
Open EVERY Saturday from 11:00-2:30pm. Guided tours are available.
DONATING TO OUR COLLECTION:  
Our Acquisitions Committee would be pleased to hear about any artifacts or archival materials you or your family may have that are relevant to local history.  Please do not bring material donations to our museum without the approval of our Acquisitions Committee.
ARCHIVAL MATERIALS (photographs, documents, maps, blueprints, sketches, etc. that are relevant to local history):
 We welcome outright donations or permission to scan materials for use in our exhibits. 
EXHIBITS:  
The MBMHS Museum is currently laid out as a series of rooms… a kitchen, a parlor, a bedroom, a crafts room, a tool room, and a classroom, to give the visitor a sense of "life in the good old days" and some insights into local history.  The rooms are separated by themed display cases.  We hope to re-arrange the museum in the future to tell the history of Mill Bay and the Malahat as "a journey through time."  If you have an interest in local history and exhibits, we would be glad to have your help in reaching this goal.
OUTREACH DISPLAYS:  
Thanks to arrangements with Mill Bay Centre Mall, we have display cases in the Medical Centre lobby which we change from time to time to feature different themes which may relate to community events.
ARCHIVES:  
Because of spatial and environmental limitations in our museum which are not optimal for archiving documents and photographs, we have made copies of many materials for our exhibits and made arrangements with the Cowichan Valley Museum Archives for appropriate storage of our archives, or in some cases, transfer of archival materials with full access by our members for research purposes.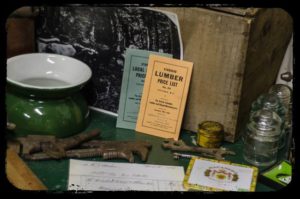 Supporting the Mission of Mill Bay/Malahay Historical Society
You can make an online donation to MILL BAY/MALAHAY HISTORICAL SOCIETY  through Canada helps: