Moving
Our museum in Pioneer Centre is closed to the public as we are packing for our move to our new building. The new Heritage Museum will be located in the former United Church on Church Way. Opening date to be announced.
The new MILL BAY / MALAHAT HISTORICAL SOCIETY MUSEUM
In 2017 the Mill Bay/Malahat Historical Society took a huge step towards establishing a high profile museum in the south end of Cowichan Valley. We joined forces with the Cobble Hill Historical Society and the Bamberton Historical Society to form the Heritage Museum Partnership. Under the umbrella of this partnership, negotiations were held with the Cowichan Valley Regional District to transform the Heritage Church (originally the Mill Bay United Church and often referred to as the "little white church on the highway") into a museum exhibit space. In January of 2017 a grant application was submitted to the BC Museums Association for a Canada 150 Grant for funds to be used towards the renovation of the church. We received that Grant and since October renovations have been ongoing.
Here is a quick update on the museum renovations:
- Heat pump has been installed.
- Electrical work is complete, except floor plugs still to be installed where needed.
- Majority of insulation has been blown into the wall cavities with some insulation in the crawl space and ceiling still needed.
- Broken historic column in front of the museum is being repaired.
- Anti-skid material installed on back steps and more will be added to ramp.
- Installation of the built in vacuum is complete.
- Interior painting is complete except for minor touch ups and baseboards.
- New cabinets are being installed.
- Sanding and refinishing of the floor has started.
- Overhead work lights have been changed to LEDs; display lighting is 95% complete.
- An 8 foot fibreglass stepladder has been purchased.
- Two fire extinguishers and a first aid kit have been purchased.
- Fire doors are ordered.
Pending:
- Construction of interior 'Juliette' balcony.
- Repairing of 3 broken windows and repointing all windows (will be done as weather permits).
- Bollards to be fabricated and installed to protect the heat pump.
- Final layout drawings for conversion of shipping container to office/storage space and preparation for the arrival of the unit (estimated arrival in early April).
- Underground telephone/internet access wiring for new office/storage unit.
THE MBMHS MUSEUM
The Mill Bay/Malahat Historical Society Museum is located in Pioneer Square Mall off the Shawnigan-Mill Bay Road, immediately west of the Trans-Canada Highway.
HOURS OF OPERATION:  
NEW MUSEUM HOURS
Open EVERY Saturday from 11:00-2:30pm. Guided tours are available.
DONATING TO OUR COLLECTION:  
Our Acquisitions Committee would be pleased to hear about any artifacts or archival materials you or your family may have that are relevant to local history.  Please do not bring material donations to our museum without the approval of our Acquisitions Committee.
ARCHIVAL MATERIALS (photographs, documents, maps, blueprints, sketches, etc. that are relevant to local history):
 We welcome outright donations or permission to scan materials for use in our exhibits. 
EXHIBITS:  
The MBMHS Museum is currently laid out as a series of rooms… a kitchen, a parlor, a bedroom, a crafts room, a tool room, and a classroom, to give the visitor a sense of "life in the good old days" and some insights into local history.  The rooms are separated by themed display cases.  We hope to re-arrange the museum in the future to tell the history of Mill Bay and the Malahat as "a journey through time."  If you have an interest in local history and exhibits, we would be glad to have your help in reaching this goal.
OUTREACH DISPLAYS:  
Thanks to arrangements with Mill Bay Centre Mall, we have display cases in the Medical Centre lobby which we change from time to time to feature different themes which may relate to community events.
ARCHIVES:  
Because of spatial and environmental limitations in our museum which are not optimal for archiving documents and photographs, we have made copies of many materials for our exhibits and made arrangements with the Cowichan Valley Museum Archives for appropriate storage of our archives, or in some cases, transfer of archival materials with full access by our members for research purposes.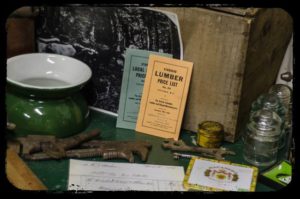 Supporting the Mission of Mill Bay/Malahay Historical Society
You can make an online donation to MILL BAY/MALAHAY HISTORICAL SOCIETY  through Canada helps: